Name               Steve Jobs
Born                 February 24, 1955, San Francisco, California, United States
Died                 October 5, 2011, Palo Alto, California, United States
Nationality         American
Occupation         Co-founder, Chairman, and CEO of Apple Inc.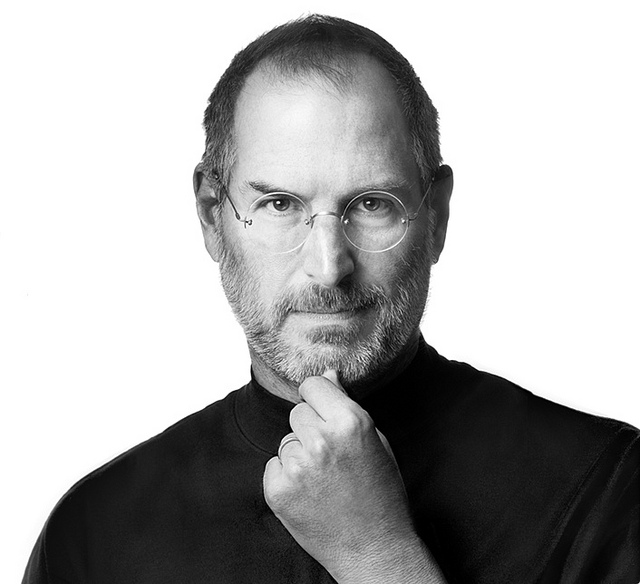 1. Aapka Samay Simit Hai. Ise Dusro Ki Tarah Zine Me Na Gawaye Aise Siddhant Ko Savikar Na Kare Jo Khud Dusre Logo Ke Vicharo Ke Natijo Par Aadharit Ho. Kisi Dusre Ki raay Ko Apni Raay Na Maan Le Apni Raay Khud Soche Apne Dil Ki Aawaz Ko Sune.
2. Kabhi Kabhi Zindagi aapke Sar Par Eit (Bricks) Se Chot Karti Hain. Vishwas Mat Khoiye.
3. Rachnatmak (Creativity) Aur Kuchh Nahi Bas Chizo Ko Milana Hai.
4. Apne Dil Aur Mann Ki Baato Par Chalne Ka Sahas (courage) Karein Kyuki Yhi Wo Hai Jinhe Pata Hai Ki aap Real Me Banana Kya Chahte Hai.
5. Technique Kuchh Nahi Hain, Important Baat Ye Hain Ki Aapka Logo Par Bharosa Hain Ki wo achhe Aur Intelligent Hain. Aur Aap Agar Unhe Koi Auzaar (tool) Dete Hain To wo usse Kuch Adbhut (Wonderful) Chiz Kar Dikhate.
6. Kya Aap Baaki Ki Zindagi chini Pani Bechte (sell) Gujarna Chahte Hain, Ya Duniya Ko Badalne Ka Ek Mauka Chahte Hain.
7. Dhirdta (Firmness) Hi Wo Chiz Hai. Jis Se Main Puri Tarah Aashwasat Hun Jo Ek SuccessFul Entrepreneur Ko Unsuccessful entrepreneur Se Alag Karti Hai.
8. Mere Liye Marne Ke Baad Kabristan (Graveyard) Me Sabse Amir (Rich) Aadmi Hona Koi Mayne Nahi Rakhta Mere Liye Sabse Important Baat Ye Hai Raat Ko Bistar Par Sone Jaate Waqt Main Ye Kahu Ki Hum Logo Ne Aaj Kuchh Achha Kaam Kiya Hai.
9. Mahaan (Great) Kaam Karne Ka Ek Tarika Hai, Ki Aap Jo Kaam Kare Usse Pyaar Kare.
10. Agar Aap Udna (Fly) Chahte Hai To To Udd Sakte Hai. Bs Lekin Khud Par Jydaa Se Jydaa Bharosa (Trust) Hona Chaiye.
11. Meri Zindagi Ki Sabse Priye Vastu (Thing) Ki Koi Kimat Nahi Use Kharida Nahi Jaa Sakta Aur Yah Clear Bhi Hai. Hum Sabhi Ke Pass Jo Sabse Kimti Resources Hai Wah Samay Hi Hai.
12. Design Ka Matlab Only Ye Nahi Hota Ki Chiz Dikhti Aur Feel Kaisi Hoti Hai. Design yah Ki Chiz Kaam Kis Tarah Karti Hain.
13. Mere Jeevan (Life) Ke Do (Two) Hi Mantra Rahe Hai. Dhyaan Kendrit Rakhna (Focus) Aur Sadapan (Simplicity) Asaan Kaam Bhi Halka Se Kathin Ho Sakta Hai. Aapko Apne Vicharo (IDeas) Ko Bilkul Clear Karna Hoga Taaki Wo Simple Ban Sake.
14. Iss Baat Ko Yaad Rakhna Ki Meri Death Bahut Najdik (Near) Hai. Mujhe Apni Zindagi Ke Bare Decide Lene Me Madadgaar Sabit Hota Hai. Aur Aisa Isliye Kyuki Jab Bhi Main Apne Marne (Death) Ke Baare Me Sochta Hun To Saara Abhimaan Aur ASafal Hone Ka  Darr Gyab Ho Jaata Hai. Aur Tab Bachta Wahi HaiJo Zaroori Hai. IS Tathya Ko Yaad Rakhna Ki Ek Din Marna Hai. Kisi Bhi Chiz Ko Khone Ke Darr Ko Khatam Karne Ka Sabse Achha Tarika Hai. Aap Phele Hi Nange (Naked) Hai Isliye Aisa Koi Karan Nahi Hai Ki Aap Apne Dil Ki Sune.
15. Mera Kaam Logo Ke Saath Narmi Baratna Nahi Hai. Mera Kaam Hai. Unhe Aur Achha Banana.
16. Yadi Aaj Ka Din Aapki Zindagi Ka Aakhri Din Hota. To Kya Aap Aaj Jo Karne Hai, Wo Karenge.
17. Main Sochta Hun Ki Agar Aap Kuchh Kare Aur Wo Bahut Achha Ho Jaaye,To Aap Wahi Kar Lambe Samay Ke Liye Tham Na Jaaye. Aage Badh Kuchh Aur Behtarin Kare. Saath Hoi Aur Aage Kya Behtarin Ho Sakta Hain. Iske Liye paryaasat (Efforts) Rahe.
18. Innovation Ek Netratu Karta (Lead doer) Aur Ek Samarthak Me Antar Clear Karta Hain.
19. Aapka Kaam Aapki Zindagi Ke Ek Bare Hisse Ko Bhar Dega Aur Ek Tarika Jis se Aaap Sachhe Artho Me Santust (Satisfied) Ho Sakte Hain. Wo Yeh Hai Ki Aap Jis Kaam Ko Bhi Mahaan Mante Hai, Usse Kare Aur Mahaan Kaam Karne Ka Only Ek Hi Tarika Hai,Jo Kare Us Se Pyaar Kare.Agar Aapne Abhi Tak Paaya Nahi Hai To Khojte Rahiye Rukiye Mat Jaisa Ki Dil KeHar Mamle Me Hota Hai. Jab Aap Use Khoj Lenge To Aap Khud Hi Jaan Jaayege.
20. Jeevan rachna Karne Aur Experiences Ko Jeene Ke Baare Me Hai. Jo Kisi Ke Bhi Sang Batne Yoge (Qualified) Hota Hai.